PaqeA-4 The Enterprise Friday, April 5, 2002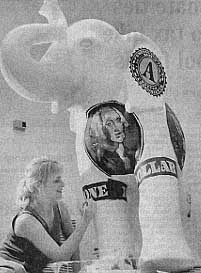 Photo by Trisha Dunn

'Party Animalsí As They Paint The Town
King's Design Be On Display on D.C. Streets
BY PAUL C. LEIBE
STAFF WRITER

First there were cows on the streets of Chicago. Seattle had a series of brightly painted pigs. Baltimore got fish. Beginning later this month, there will be 100 elephants and 100 donkeys, the symbols of the two major political parties, in downtown business areas and residential neighborhoods of Washington, D.C.

Local artist Leslie King is painting one of the elephants in the studio of her Town Creek home. Each of the sculptures will have a unique paint job. Called "Party Animals," the project is sponsored by the D.C. Commission on the Arts and Humanities. The idea is to "showcase the work of our best and brightest artists; enliven our streets with creative, humorous art; stimulate tourism throughout the city; encourage community pride; create economic opportunities for local businesses; and fund grants to ... artists, arts organizations and arts education," according to the commission.

King and the other artists chosen submitted their ideas to the commission, which passed the concepts on to a selection committee. King submitted two ideas, one for an elephant painted to look like a dollar bill and another as a version of a stylized American flag. The selection committee liked the dollar bill idea and commissioned King to complete the work.

Both the elephant and the donkey statues are 4.5 feet tall and 5 feet long. King, her husband and a friend traveled to downtown D.C. two weeks ago in a borrowed pickup truck to get her elephant from the old Woodward and Lothrup department store building, where the Party Animals were being stored. The sculptures are made of plastic and weigh about 150 pounds each. King is using exterior-grade acrylic latex from a local hardware store. She will receive $1,000 in grant money plus $200 for supplies for her effort. Her completed elephant will be delivered back to the Woodie's building next Friday. Dorothy McSweeny, chair of the arts and humanities commission, said she hopes Party Animals will attract visitors to the nation's capital; tourism has been down since Sept. 11.

"I like elephants, they're cute," was King's only response when asked if she chose that particular animal over a donkey because of a political affiliation.